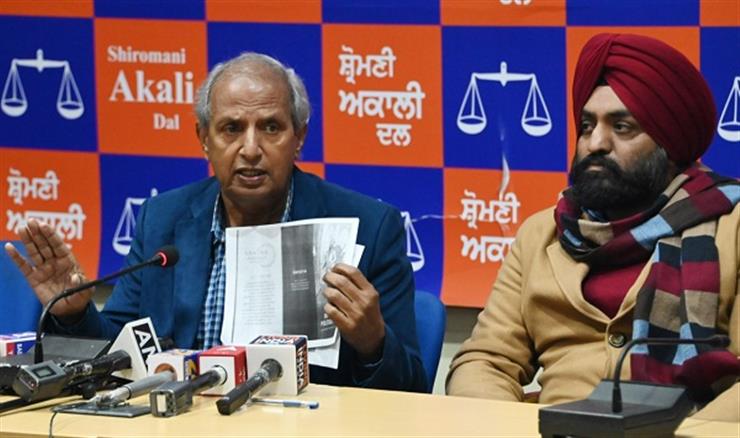 SAD Calls for Judicial Inquiry into Congressional Government's Compromise of National Security
CHANDIGAR: Shiromani Akali Dal has today called for a judicial inquiry into reports that the peace of the sensitive border state of Punjab as well as the security of the country has been seriously undermined by the ruling party by virtually placing the intelligence wing the most crucial of the Punjab police practically at the assignment of a private company and asked to dance to its tunes.
Addressing a press conference at the party headquarters here today, Mr Harcharan Bains, Senior Advisor to SAD Chairman Sardar Sukhbir Singh Badal shared documents relating to the reported abuse of the wing of the state intelligence by a private company, Movedek Politico. Bains said there are credible reports that the state's highest-ranking police officers have been asked to collaborate with the private company in intelligence gathering. Intelligence officers were told to report not to the Home Secretary, Home Secretary or Director General of Police, but to Movedek Politco.
Mr Bains said it had caused the "most unprecedented and dangerous collapse" of the law and order machinery in the state. When the police, especially its intelligence wing, got bogged down in gathering information to blackmail and arm-twist workers and potential candidates opposed to the chief minister and the ruling party, peace and peace Communal harmony in Punjab have been left at the mercy of God. "During this period, the state has witnessed a sudden upsurge in shocking incidents of sacrilege, bombings and other shocking incidents of violence. produced during this period only.
Mr. Bains said a form was circulated among intelligence officials from the highest down to the lowest levels by the said company and they were asked to share intelligence on the company's website. He said it was a shocking compromise on constitutional and legal processes.
Mr. Bains said the party demands a judicial investigation by a sitting judge of the High Court of Punjab and Haryana into this sordid and dangerous saga which puts the peace of Punjab and the security of the country at stake. He said that apart from this, the party would also take the matter to the Election Commission as it was a serious violation of the free and fair voting process in the state. Mr. Bains also asked the state police chief to order a departmental investigation into the reports and take appropriate action. Mr. Bains wanted all relevant call details from the relevant leaders and officers who were allegedly involved in this dangerous compromise of security protocols.
He called on Chief Minister Charanjit Singh Channi and State Home Minister Sukhjider Singh Randhawa to come clean on reports that a meeting of the highest ranking officers of the police intelligence wing took place on December 1, 2021 to analyze intelligence feedback. gathered thus far and to give further instructions to the base of the department to work in tandem with and on the instructions of the private company.