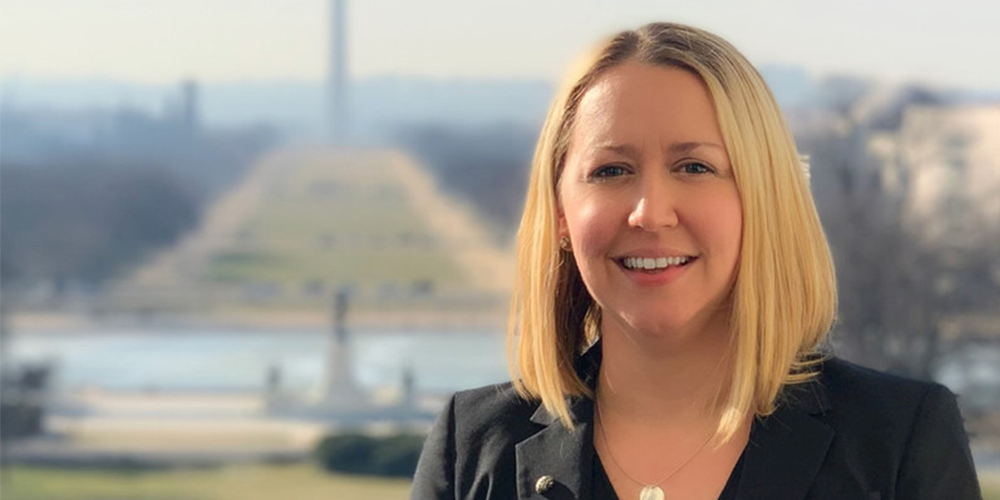 Meghan Mott believes in political scholarship. She completed three herself.
Mott is now a member of the professional staff of the US Senate Appropriations Committee. Specifically, she works for the Sub-Committee that funds the Ministries of Labour, Health and Human Services, Education and related agencies.
She got her doctorate. in Anatomical Sciences and Neurobiology in 2011 from the University of Louisville School of Medicine and continued postgraduate training at the National Institutes of Health. It was at the NIH that she became interested in a career in science policy.
"As a postdoc, I became involved in the intramural fellowship community on the NIH campus, where I co-chaired the career development committee. At the same time, I began writing for the Association for Women in Science magazine as a regular contributor and the NIH Record and NIH Catalyst newsletters," Mott recalls. "At the end of my first year as a postdoc, I identified science policy as a career path and started applying for fellowships."
In 2014, she was selected for the Christine Mirzayan Science & Technology Policy Fellowship at the National Academies. She then did a brief stint as a research associate at the Institute of Medicine before attending another program, the American Association for the Advancement of Science's Science & Technology Policy Fellowship, which paired her with the National Institute of Neurological Disorders and Stroke.
"I was hired as chief of staff after my fellowship ended. I stayed there for five years. During this time I also got married and had my first baby," she said. "I learned a lot about the world of science administration and communication, helped build and coordinate large-scale projects like the BRAIN initiative, and developed relationships within NIH , along with other federal agencies, professional societies, advocacy groups, and the scientific community.At the end of my fourth year at NINDS, I began to want to do something different.
It was then that she prepared to undertake her third and final fellowship, this one offered by the Brookings Institution.
"One facet of my job (at NINDS) that I really enjoyed was coordinating our interactions with Congress. I discovered the Brookings LEGIS Fellowship Program and I was lucky to have an incredibly supportive boss who was willing to let me work on Capitol Hill for a year," she said.
Brookings placed Mott on the Senate Health, Education, Labor and Pensions Committee working for U.S. Sen. Patty Murray, D-Wash., who was then the most senior member. Mott's work has focused on biomedical science and mental health and women's issues.
"I was thrilled to work for Senator Murray," Mott said. "I was inspired by her story of how she got into politics – after she was told she couldn't make a difference as 'just a mom in tennis shoes' while pleading for funding her children's preschool program. She became the first female senator from Washington state, the first female chair of the Senate Veterans Affairs and Senate Budget Committees, and is now the third Democrat in the Senate. Today, this mom in tennis shoes is a champion of significant investments in community health centers, health workers, biomedical research, health equity and public health infrastructure. As a woman and as a scientist, it is a privilege for me to work for a congressional leader who values ​​science and fights for these causes.
Soon, a member of the LHHS subcommittee retired, and Mott won his current position.
Mott spoke to ASBMB Today about his work and his advice to others interested in careers in politics. The interview has been edited for length, clarity and style.
Tell us about your current role and what you enjoy most about it.
In a typical year, our work is quite cyclical: the bill cycle starts with the release of the president's budget in February, followed by the agency budget hearings we hold in March and April. During this time, we also meet with various advocacy and special interest groups and constituents about issues in our agencies and the proposed wording of bills and reports.
My work involves a lot of writing, often under tight deadlines in response to emerging issues. It's also very outward-looking, and it has an important social and political aspect, in that we negotiate bills with our Republican and Democratic counterparts in the Senate and the House of Representatives to come to an agreement before that our bill is passed on the floor of the House and the Senate. There is definitely a science and an art to this.
Recently, COVID-19 has put this process on steroids. To say it's like building an airplane by flying it isn't an exaggeration, I think. But that's what I love most about my job: while there's this underlying cadence to preparing our annual bills, there's also this quick and responsive component that's unpredictable and keeps you on your toes. your guards.
I helped write those landmark laws that Congress enacted — like the CARES Act and the US Bailout — that provided direct relief to workers, families, and schools. Our six additional bills have helped speed up testing and sequencing to identify new variants of COVID-19 and slow the spread of the virus. More importantly, they helped mount a national vaccination program to get vaccinated as soon as possible.
I am very proud and humbled to have been a part of this impactful work that has touched so many lives over the past two years.
What skills should young women interested in science develop if they want to work in the field?
If you think politics interests you as a potential career, do your homework. Find as many people as you can who work in policy who are willing to tell you about their work, their likes and dislikes, and how they did their job. transition to the domain.
When it comes to skills, being a good copywriter who can convey and distill complex information concisely is really essential.
Demonstrating leadership and organizational skills outside of the lab is also important in making the transition. Studying and understanding the ecosystem you are trying to enter and gaining real work experience in it is also essential. For me, it was through my first details as a post-doc, then a series of fellowships in politics – of which there are many these days!