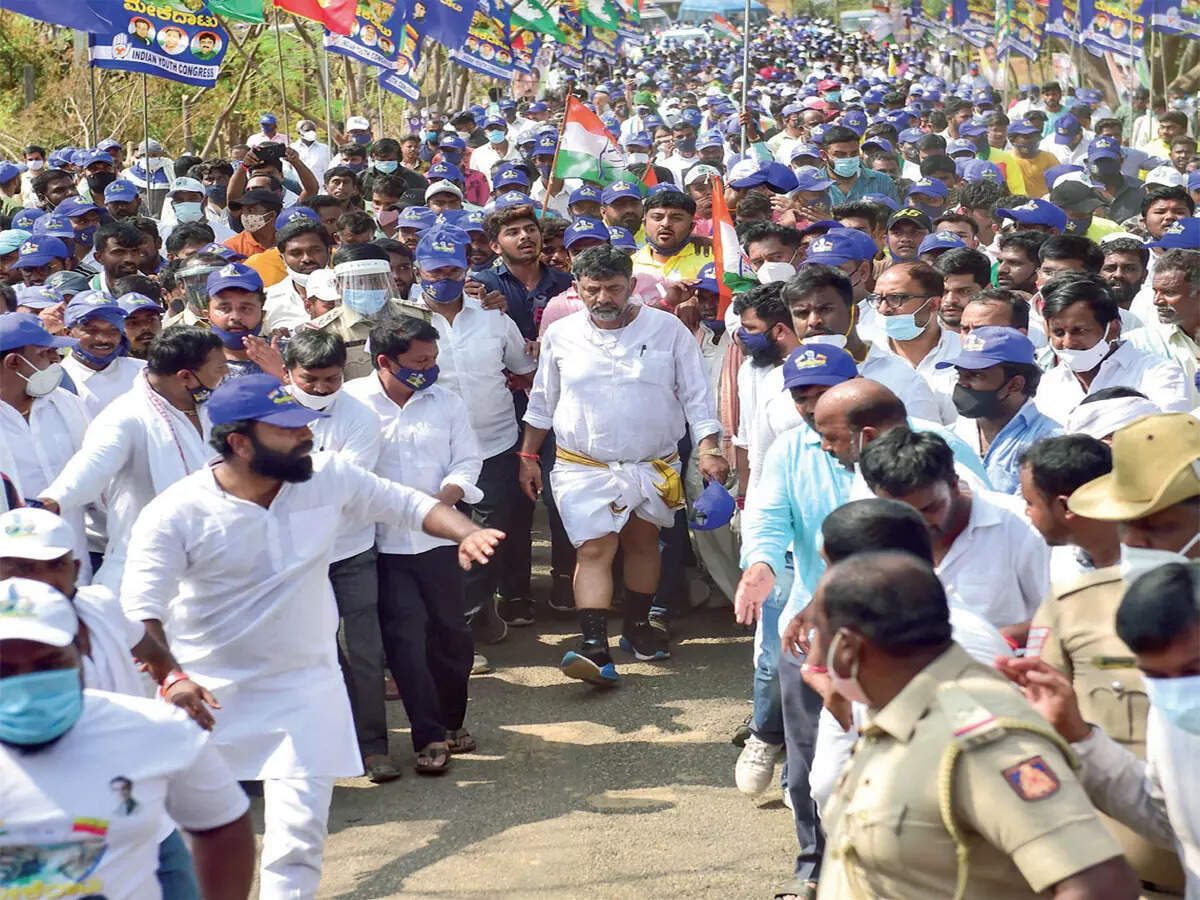 Government ponders legal decision as padayatra continues
Congress kicks off the rally of Mekedatu Sangama; Ramanagar administration urged to take action for violation of covid standards
Despite government opposition, Congress launched its ambitious 10-day "padayatra" on Sunday near Mekedatu sangama in Ramnagar district amid curfew orders in Karnataka.
Thousands of members of Congress gathered on site to participate in the inauguration ceremony of the padayatra. The protest rally was organized to demand the swift implementation of the Mekedatu project by the decision BJP government in the state. Congress claims that the implementation of the project would help solve the drinking water problems of Bangalore city ​​and its surroundings.
Neighbor Tamil Nadu is opposed to the project. The ruling BJP maintains that the case is before the Supreme Court and they are committed to implementing the project. The rally brought together film artists, religious leaders, and senior congressional leaders and lawmakers. The padayatra will reach Bengaluru after five days.
Congress planned to hold protest rallies in all segments of the Bengaluru assembly for another five days before gathering in Land of the National College of Basavanagudi.
Reacting to this, CM Bommai held a meeting with his senior cabinet colleagues to decide on further action. Many ministers have warned of the arrest of congressional leaders, saying the opposition party could use it to their advantage.
They don't care about Mekedatu's water. If they cared, they could have done something during their five-year tenure
– Araga Jnanendra, Minister of the Interior
The government ordered the Ramanagar district administration to take legal action for violation of covid standards. Bommai accused the party of playing politics on the Mekedatu issue, instead of behaving like a responsible opposition. Minister of the Interior Araga Jnanendra said Congress does not care about Mekedatu's water but is releasing a padyatra with the elections in mind.
*************************************************** *

'Tiredness' Siddaramaiah leave padayatra, for now


The leader of the opposition in the Assembly Siddaramaiah who inaugurated the padayatra by beating drums had to leave the padayatra in the meantime because he was not feeling well. After walking a few kilometers, Siddaramaiah felt tired and rested in a car. Later, Siddaramaiah reportedly felt feverish. On the advice of doctors, the leader returned to Bangalore, sources said. "He is likely to join the padayatra tomorrow," they said.