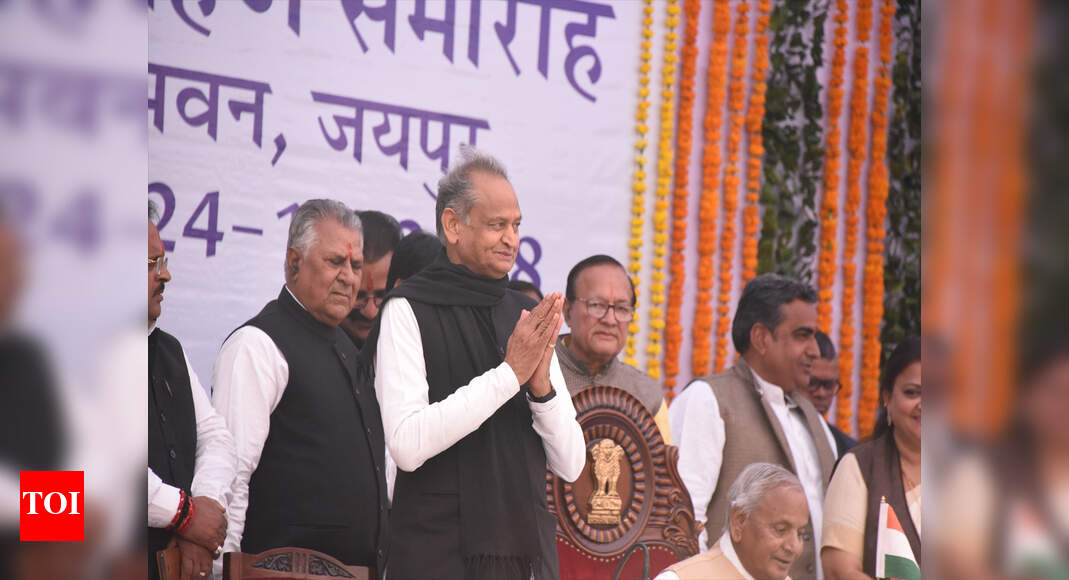 Congressional government: Congressional government acquires new team as 23 ministers take oath | Jaipur News
JAIPUR: The newly formed Congressional government on Monday inducted 13 ministers and 10 ministers of state who were sworn in by Governor Kalyan Singh to Raj Bhavan.
With Chief Minister Ashok Gehlot and Deputy Chief Minister Sachin Pilot taking the oath in a grand ceremony on December 17, the total cabinet membership now stands at 25, which can be increased to 30. The ministers were sworn in without portfolios.
The list, which was finalized taking into account the caste and community equations, bears the seal of CM Ashok Gehlot as he is said to have 13 of his followers on the State Council against five from Pilot's camp. Top executives like Rajsamand MLA CP Joshi and Srimadhopur (Sikar) MLA Deepender Singh were excluded from the team.
Of the newly inducted members, 18 are ministers for the first time. Mamta Bhupesh, MP for Sikrai in Dausa, is the only woman on the team, while MP for Pokhran Saleh Mohammed is the minority face of the government. Mohammed was appointed cabinet minister, while Bhupesh got the post of minister of state, as did Congress ally, RLD MP Subhash Garg.
Garg and Baytoo MP Harish Choudhary, who was previously an MP, are the only two members to have been elected lawmakers for the first time.
Prior to the swearing-in ceremony, the appointed members met at the Pradesh Congress Committee office, where they were greeted by Gehlot and Piliot. Afterwards, lawmakers traveled by bus to the Governors' House where they were sworn in in the presence of party activists, sympathizers and family members.
"The first priority is to establish good governance"
Interacting with the media, CM Gehlot set out his priorities and said: "With the enlargement of the cabinet completed, our first priority is to establish good governance. Soon the problems of farmers and unemployment will be addressed.
Deputy CM Sachin Pilot congratulated the newly inducted members and called on them to keep the promises made by the party. "I congratulate all and hope all will work with dedication and play an important role in achieving its goals by the state government," Pilot said.
Shortly after the ceremony, supporters rushed into the ministers' arena to congratulate them and a lucky few managed to take selfies with them.
The trail along the Raj Bhavan Road was inundated with hundreds of supporters, who were unable to attend the ceremony inside. Holding garlands, turbans and shawls, supporters also lined up outside the residences of their lawmakers to greet them. Police have been ordered not to harass supporters. The presence of a huge crowd paralyzed traffic at 22 Godown for hours.