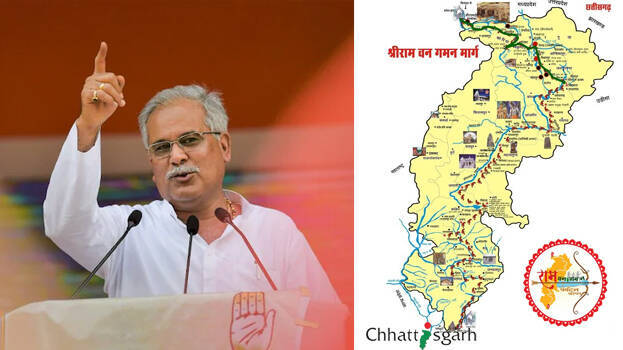 Congress government in Chhattisgarh to celebrate Ram Navami Day; active movements to retain power via the Hindutva route – INDIA – GENERAL
RAIPUR: The Chhattisgarh Congress is taking action against the BJP in order to retain power in the assembly elections scheduled for next year. The state government is trying to retain power through the Hindutva route. Within this framework, Ram Navami Day celebrations are largely organized under the leadership of the government.
The government is also planning for the timely execution of its ambitious "Ram Van Gaman Tourist Route" project which stretches from the north to the south of the state. The project aims to connect nine places where Lord Ram is said to have traveled during his 14 years in exile. As part of this, Chief Minister Bhupesh Baghel will inaugurate the launching ceremony of the renovated Shivrinarayan Temple on Ram Navami Day (April 10). The Shivrinarayan Temple is one of nine sites visited by Lord Ram during his 14 years in exile.
"We planned to develop Shivirinarayan on the lines of Ayodhya. Chhattisgarh has a glorious past associated with the Ramayana. The state government is developing nine places under Ram Van Gaman Road and Shivrinarayan is second on the list after Mata Kaushalya Temple," the Chief Minister said.
The state government is also organizing a Ramayana recital competition at the Shivrinarayan Temple as part of the launch of the first phase of the work of the "Ram Van Gaman Tourist Circuit". Numerous troupes consisting of 350 prominent performers from 25 districts of the state participate in the three-day recital competition.
KEYWORDS:
BHUPESH BAGEL,
CONGRESS,
CHHATTISGARH,
RAM NAVAMI DAY,
HINDUTVA,
POWER,
POLLS