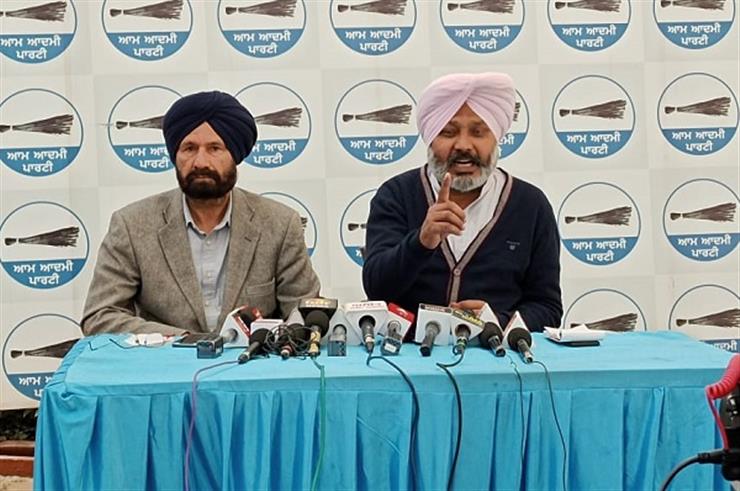 Congress government has completely destroyed health services in Punjab: Harpal Singh Cheema
CHANDIGAR: Harpal Singh Cheema, a senior leader of the Aam Aadmi Party (AAP) and leader of the opposition, has sharply criticized the Congress government for the miserable state of health services in Punjab. Harpal Cheema said: "The quality and availability of health services in Punjab is not hidden from anyone but in the past few months it hit rock bottom when the government of Channi terminated the contract of the company. insurance, through which people enjoy the benefits of the Ayushman scheme (5 lakh health cover card), without any hesitation.
In a statement released from the party headquarters, Harpal Cheema informed that the state government controls the Ayushman scheme, the Punjab government awards contracts to insurance companies through which people access this scheme and can obtain health services up to Rs 5 lakh. Channi's government terminated the old contract with SBI General Insurance on December 29, 2021. After that, no new contract was put in place. Harpal Cheema said that for the benefit of private actors Akali and Congress governments have already destroyed the public health system in Punjab and private hospitals no longer receive patients under the Ayushman regime because in the absence of 'an insurance company, claims are not paid.
Harpal Cheema said that today poor and ordinary people cannot go to government hospitals as no services are available there and now since the government of Channi discontinued the Ayushman program in Punjab, nor can they go to private hospitals. He asked Charanjit Singh Channi and Health Minister OP Soni that when they canceled the previous contract with no intention of bringing in a new one, did they think for a second of the thousands of poor people in Punjab. He said who will be responsible for the suffering of those people who are left in the quagmire.
Harpal Cheema reiterated that Aam Aadmi Party will implement its second guarantee related to health services as soon as it forms the government of Punjab. Cheema said Punjab's health system needs to be reformed and only AAP can do this like we did in Delhi. He added that the health sector cannot be taken lightly, as previous governments have done. The ignorant government of Channi terminated the contract with the insurance company without thinking of the public and then did not set up a new one because it spares no thought for the health of ordinary people.