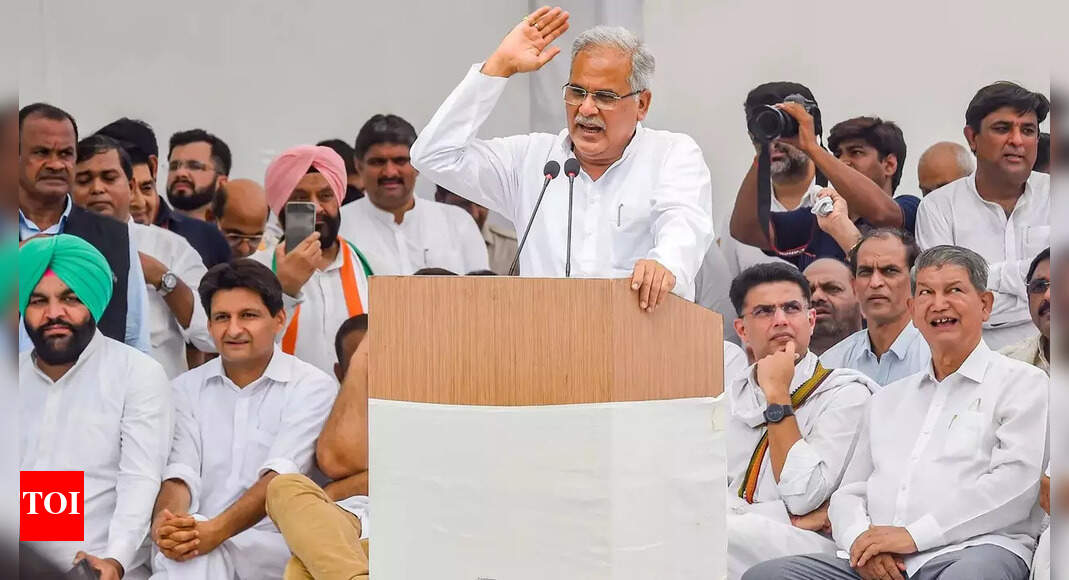 BJP may try to destabilize Congress government, even in Chhattisgarh: CM Bhupesh Baghel | Raipur News
RAIPUR: Chhattisgarh Chief Minister Bhupesh Baghel on Tuesday alleged that the phones of opposition leaders were tapped and accused the BJP-led Union government of trying to destabilize governments where Congress is in power.
"Many leaders' phones are under surveillance. There might be an attempt to destabilize Congress governments including in Chhattisgarh," he told media during a dharna in Delhi.
Baghel, his cabinet colleagues and Chhattisgarh Congress lawmakers were arrested by Delhi police as they walked towards the ED office from the AICC headquarters and moved from the scene of unrest. Speaking to the media, Baghel said young people were angered by the "Agnipath" scheme, which he said was not in the interest of the nation. Demanding the withdrawal from the scheme, he said: "After four years of service, the BJP wants to employ the 'Agniveers' as security guards." Baghel also alleged that the BJP was planning to "somehow terminate the reservation system."
Center trying to 'harass RaGa': CM
The Congress chief minister said the BJP government in the Center was trying to 'bully and harass Rahul Gandhi' because he was raising issues of corruption, inflation and issues of farmers and youths. "Despite this misuse of central agencies, neither Rahul nor the Congress party will bow to such tactics. We will continue to raise the voice of the people," Baghel said.