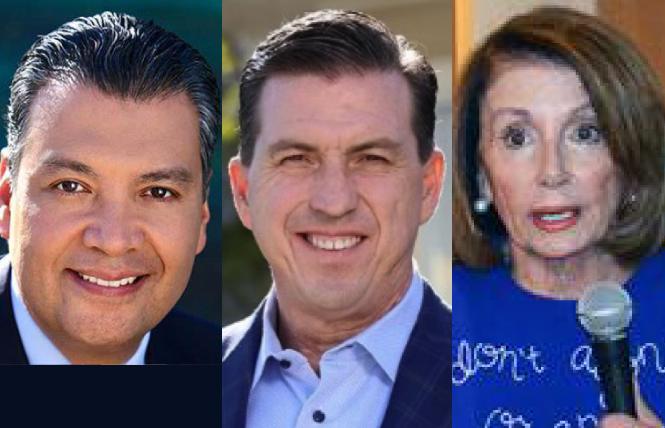 Bay Area Reporter :: Editorial: BAR Congressional Approvals
We are fortunate in the Bay Area to have a strong Democratic congressional delegation. That trend appears to be continuing even as the 15th congressional district selects a new representative to succeed retiring Jackie Speier, who ably represented parts of San Mateo County and San Francisco during her nearly 15 years in office. able. This primary election will also give voters the first chance to weigh in on California's new junior senator, Alex Padilla, the former secretary of state who Governor Gavin Newsom appointed last year after Kamala Harris became vice president. .
Below are our recommendations for Congress in the June 7 primary.
US Senate: Alex Padilla
Alex Padilla is running for a full six-year term. He has been a strong ally to the LGBTQ community. In his Bay Area Reporter endorsement questionnaire, Padilla wrote that he is a strong supporter of the LGBTQ community. "I will continue to fight for a future in which all civil and human rights of LGBTQ+ people are recognized," he said. "The assaults on the LGBTQ+ community that we see happening across the country underscore the urgency of passing legislation at the federal level that protects the rights of all LGBTQ+ Americans. I am committed to defending federal legislation, like the Equality Act, which guarantees equal protection for everyone."
Padilla is a strong advocate for affordable housing and addressing the homelessness crisis gripping the state. He proposed a Housing for All Act that would invest billions of dollars in programs that have proven successful in addressing the shortage of affordable housing, including the National Housing Trust Fund and supportive housing for disabled people. "Many programs in the [Housing for All] bill were inspired by efforts that have been launched right here in California," he wrote, "such as the creation of a secure parking program to create parking sites that provide spaces for those who live out of their vehicles to park overnight. spaces like hotels, motels and malls into housing for the homeless and vulnerable, he noted.
Padilla said he successfully pushed the Biden administration to extend the eviction moratorium last year, and said the government must reallocate federal rent relief funding to communities that had the most need.
Padilla isn't widely known to Californians, which is why this election matters. One of his Democratic challengers is Santa Barbara tech billionaire Dan O'Dowd, who is running an ad campaign criticizing the safety of self-driving cars. Additionally, the California Democratic Party got it wrong when it accidentally excluded Padilla's name from its list of approved candidates in the state's voter guide; the party approved it in March, while the San Francisco Chronicle reported.
Padilla became the first Latino from California to serve in the Senate (and he was the first Latino in state history to be elected to his former position as Secretary of State). Representation matters, as we regularly stress, and having your voice in the Senate is crucial for all Californians. We recommend a vote for Padilla in the June 7 primary ballot.
15th Congressional District:
Kevin Mullin
This race, as mentioned above, is the only one in which the incumbent is not seeking re-election. The district includes parts of San Mateo County and San Francisco. Current Assemblyman Kevin Mullin (D-San Mateo) gets our endorsement because of his passion and commitment to making our democracy work for everyone. During a Zoom editorial board meeting, Mullin was enlivened by the recent leak of the U.S. Supreme Court's draft opinion that would overturn Roe v. Wade, who granted the right to abortion for 50 years. "Roe's news is an abomination," he said. "It undermines the will of the people." While careful to reiterate that this was a leaked draft notice — the final notice, expected in late June or early July, could be different — Mullin nonetheless insisted that, if elected to Congress, he would work to protect other court-granted rights, such as same-sex marriage, which could also be overturned. "A whole range of rights are under attack," Mullin said.
He said there was a desperate need for a "strongly Democratic Senate" and for Democrats to retain control of the House of Representatives. The national outcry over Roe's possible end could motivate Democratic and Liberal independents to run not just in the primaries, but in the midterm elections in November.
Mullin, the Assembly's pro tem speaker, has been a strong ally in the Legislature and received a 100% score from Equality California from 2013-2020. He has also supported many LGBTQ-related bills drafted by members of the LGBTQ Legislative Caucus and he authored an Assembly resolution in 2015 condemning the "Sodomite Suppression Act" ballot measure, which a judge ruled unconstitutional so it would not face voters.
Mullin also discussed what he sees as his district's biggest issue, the affordability crisis, which includes affordable housing, climate change and building an economy that works for everyone. Mullin is a progressive lawmaker who will ably fill Speier's shoes — she endorsed him and he worked for her years ago — and will be a good addition to the Bay Area's congressional delegation.
We recommend Mullin for the 15th Congressional District.
Other Congress Races
house tenant Nancy Pelosi (D-San Francisco) is running for another term in the 11th congressional district. Pelosi, who led the House vote on the Equality Act in 2021, is a key ally of the LGBTQ community. That bill, introduced by gay congressman David Cicilline (D-Rhode Island) continues to languish in the Senate and will likely need to be reintroduced next year. Pelosi has done a stellar job leading an at times fractured Democratic caucus. She will almost certainly be re-elected.
Congresswoman Barbara Lee
Over in the East Bay, Congressman Barbara Lee (D-Oakland) is also up for reelection. A staunch ally, Lee, along with Pelosi, was instrumental in bringing the AIDS Memorial Quilt back to the Bay Area in 2019. Lee is a longtime supporter of the HIV/AIDS community as well as the LGBTQ community. We gladly support his re-election in the 12th congressional district.
Eric Swalwell (D-Dublin) is running for another term. He is a community ally and is best known for taking on Republicans, including former President Donald Trump. East Bay voters are expected to return him to office in the 14th congressional district.
In the South Bay, holder of the 17th congressional district Ro Khanna (D-San Jose) is a progressive ally who in 2020 introduced the Gender Neutral Passport Bill. (Last month, the US State Department officially changed its policy to now allow such passports.) He will continue to advocate for climate change policies and Medicare for All.
Another congressman from South Bay is Anna Eshoo (D-Palo Alto), which represents the 16th district. She worked to protect the integrity of elections and to expand access to the right to vote. She is a longtime ally.
Congressman Zoe Lofgren (D-San Jose) completes the South Bay delegation and represents the 18th district. She is a strong advocate for reproductive freedom and a steadfast ally.
In the East Bay, Congressman John Garamendi (D) is running in the new 8th District after his old seat was split. He doesn't live in the district (members of Congress don't have to), and although it's a very diverse district, the incumbent's power makes him likely to be elected. He has been a good ally to the LGBTQ community and has said he will reach out to the community he now represents. This is not the first time that Garamendi has been hit by redistricting.
In the new 9th Congressional District, incumbent Josh Harder struggled with homelessness while in the House. That seat was previously represented by retired Jerry McNerney and includes the East Bay towns of Tracy and Manteca in San Joaquin County.
In the 10th Ward of Contra Costa County, Marc Desaulnier is running for re-election. He has been a strong ally over the years.
In North Bay, we recommend re-election of Democratic incumbents Jared Huffman in the 2nd arrondissement and mike thompson in the 4th arrondissement. Both have served their constituents well over the years and are allies.
Help keep the Bay Area Reporter going during these difficult times. To support local, independent and LGBTQ journalism, consider become a member of the BAR.